Tombstone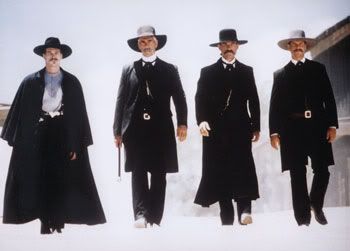 New-school western about Wyatt Earp & his brothers, and Doc Holiday, who become reluctant lawmen in the criminally overrun town of tombstone. I really wasn't thrilled with it. Sam Elliott made a wonderful, cool, elder-badass, and there are some nice homages here and there to the bygone era of the genre - the outlaws' raid in the opening scene, as well as a welcome cameo from Charleton Heston and some cool opening and closing narration by Robert Mitchum. Val Kilmer gives a fine, if not rather dandyish and hammy performance as Doc Holiday, but other than that...meh. Hasn't got any of the grandness or emotional punch-packing as, say,

The Searchers

or

Shane

, it's not a fun ride like

Rio Bravo

nor has it got the gritty coolness of

The Good, the Bad, and the Ugly

. Just naff.