Save The Green Planet!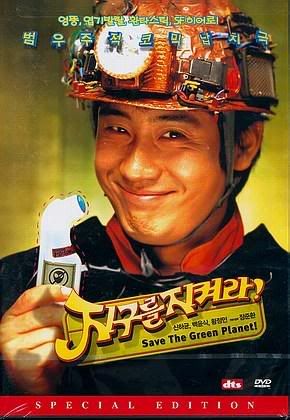 With American film studios turning out their usual amount of unmemorable fluff, many Yank film aficionadoes have started to take notice of the recent cinematic exports of South Korea, and when one looks at a film like
Save The Green Planet!
, it's not difficult to see why.
STGP!
is a brilliant and completely unique mixed bag of Douglas Adams-esque sci-fi, biting black comedy and genuine tragedy, too. The story concerns Byeong-gu Lee, a young man who has suffered from too many anti-depressants and childhood traumas, and becomes convinced that the president of a large chemicals company is actually an alien in disguise. Bent on saving the earth, he kidnaps the man and locks him in his basement, shaves off his hair (because aliens use it to send telepathic signals) and tortures him with methenol bee sting rub to try and extract information from him about his alien plans.
I'll refrain from revealing too much of the plot, but this is definatley one to check out for fans of Asian cinema, or, in fact, anyone who is looking for something a little "different." The movie switches genres at a rapid-fire pace, mixing elements of sci-fi, black comedy, serial killer films, detective dramas and heart-wrenching tragedy, and first-time director Jang Jun-Hwan pulls it of flawlessly. It makes death and torture funny and disturbing in a way that hasn't been seen since
A Clockwork Orange
, with a lot of surprisingly grisly scenes in what would appear at first glance to be a just a lighthearted, wacky comedy. The actors are also excellent when it comes to driving the film's rapid gear-switches. Ha Kyun-shin gives a masterful performances as Byeong-gu, who is funny, empathetic and terrifying, often within the span of just one scene, and Yun-shik Baek is also great as the accused alien Mr. Kang, displaying hatred, then compassion, then hatred for the young protagonist. Also noteworthy are Jae-young Lee as harderned detective on Byeong-gu's trail, and Jeon-mong Hwan as Byeong-gu's girlfriend. In the midst of all its gleefully sadistic, insane fun,
Save The Green Planet!
is at its heart a profound story about a deeply disturbed individual who can't come to terms with the fact that the tragedies he's endured could be anything other than the sick meddling of extra-terrestrials, so he sets out to put things right. Definatley reccomended for anybody (though you've got to be able to handle a bit of blood) who's looking for a unique viewing experience, this is the best in quite a while.
And as a special added bonus, an MP3 of the film's marvelous theme song - a kickass punk rock cover of "Somewhere Over the Rainbow" performed by Transfixion - can be downloaded
here
, thanks to a most generous member of the IMDb message boards who calls himself 'dzombiex.' Scroll to the bottom of the RapidShare page and hit "Free" (unless you've got a premium account) and the download link is on the next page. Enjoy!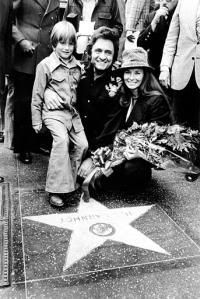 Something else I happened upon that's kind of interesting - a couple of conflicting opinions from Johnny's kids regarding
Walk The Line.
John Carter Cash, his only son, wrote
a touching tribute to his father for the USA Today
, detailing how Johnny approved of both Phoenix and Witherspoon as actors and applauded the choice of them doing their own singing - apparently to have his voice come out of Joaquin's mouth didn't feel "honest." On the other hand, Kathy Cash, Johnny's daughter from his first marriage, has tried to watch the picture five times at family-only screenings
and has been so upset she had to walk out each time
. She took particular issue over how her mother was portrayed - she was the woman who Johnny actually wrote "I Walk the Line" for, and Kath described her depiction in the movie as "a mad little psycho who hated his career." She also objected to the films skimming over the pain she and her sisters endured during their father's fight with drugs, and claims it paints Johnny's father Ray Cash in a negative light, too. "Anyone who wants a good sex, drugs and rock 'n' roll movie is gonna love it," she said. "[But] I'm anticipating dyed-in-the-wool fans objecting to a lot of stuff."