It's part of the race: David Carradine 1936-2009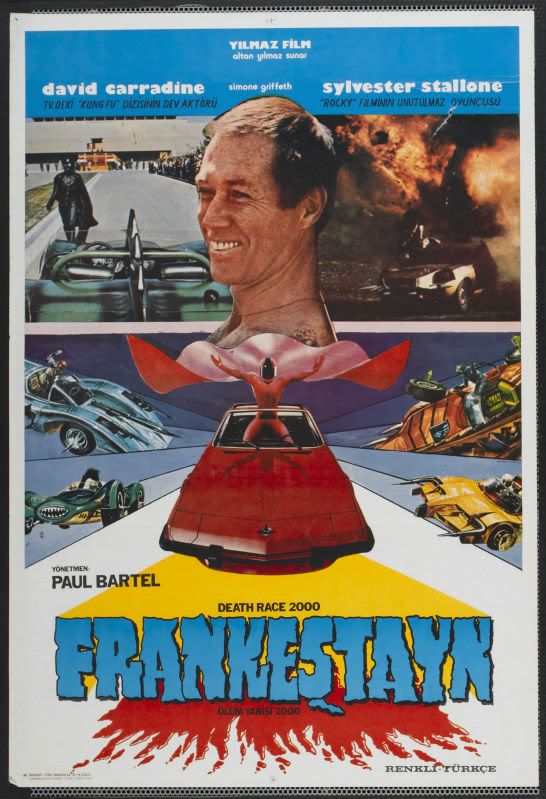 The untimely death of David Carradine came as a shock to everyone, from youngsters who knew him as the eponymous assassin squad leader and father figure in
Kill Bill,
to the baby boomers who watched him on TV as Kwai Chang Caine in
Kung Fu
, to cinephiles the world over, for many wonderful roles over the years. He was Cole Younger, leader of the Younger gang in Walter Hill's
The Long Riders
(alongside real-life siblings Robert and Keith), an existential circus acrobat in Ingmar Bergman's underrated
The Serpent's Egg
, and Woody Guthrie in Hal Ashby's
Paths of Glory.
But out of all the roles of his long and storied career, my personal favorite is the wackily nihilistic, low-budget, subversive Roger Corman opus,
Death Race 2000.
The film was recently given a toothless and irony-free remake treatment by Paul W.S. Anderson and Jason Statham, but the original, directed by Paul Bartel of
Eating Raoul
fame, and scripted by the brilliant Charles B. Griffith, is undoubtedly the superior picture. By the year 2000, the United States have dissolved and become a totalitarian state. Population control and popular entertainment are handled simultaneously in the form of the Transcontinental Road Race, a cross-country automobile rally in which the contestants score points by mowing down innocent pedestrians. In keeping with the theme of fascistic empires, several of the racers have names like Mathilda the Hun (who sports a German helmet decked out with swastikas) and Nero the Hero. A pre-fame (and hilarious) Sylvester Stallone is Machine Gun Joe, the tommy gun-wielding, short-fuse bad boy that the fans love to hate. And David Carradine is Frankenstein, the unchallenged champ and star of the show.
According to Carradine, he sought out the role in this film to distance himself from Kwai Chang Caine as much as possible. Frankenstein wears a black leather bodysuit and gimp mask, and talks in a monosyllabic
Alpha 60
voice, although this is revaled to be a front for a suave and philosophical individual. Striving to outwit his opponents as well as a ragtag group of liberal revolutionaries who set booby traps for the racers, Frankenstein, like Lemmy Caution, is a poker-faced anti-hero in a farcical, dark-witted spoof. One of the film's many highlights is a scene in which the elderly and terminally ill are lined up in the middle of the road outside a hospital for "Euthinasia Day," and Frankenstein displays his "red-blooded, American sense of humor" by driving up the ramp and taking out the doctors and nurses instead.
With its mix of sci-fi satire, grindhouse violence, Benny Hill "Yakity Sax"-inspired sped-up car chases, and 70's post-watergate sentiment (Peter Fonda reportedly turned down the lead in this film... his loss)
Death Race 2000
is a deliciously poisoned cupcake for any cult film fan. And Frankenstein may well be the ultimate David Carradine performance - never winking at the camera and always acting like a professional, no matter how loopy things got. He was an actor of immense talent and charisma who will be fondly remembered.