JSA: Joint Security Area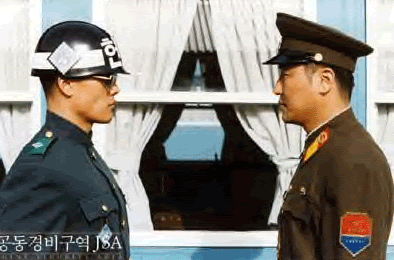 Despite all the hullaballoo surrounding South Korean filmmaker Chan-wook Park, I had yet to get ahold of any of his movies until recently stumbling upon this gem at the local video store. It's a story that takes place at the titular area, the borderline between communist North Korea and capitalist South Korea, guarded on either side by the armies of both nations. Each country's troops stand silently at their posts, waiting, and never making any kind contact with the enemy...for the most part. Late one night, a shootout occurs in one of the bunkers on the North side, killing one of the officers. A female Neutral Nations official is sent to investigate the killing, suspecting a murder and cover-up on the part of the South Koreans. Through flashbacks, it is revealed that the death was the result of something much more simple and tragic - a forbidden friendship between four soldiers of the two opposing sides.
Through a series of flashbacks the soldiers' story is revealed - South Korean Sgt. Lee was part of a group who accientally stumbled onto North territory while patrolling a reed field at night, panicked, and left him behind. He steps dangerously close to a land mine, but is rescued by a pair of sympathetic North Koreans who defuse the bomb and let him go. Lee and his bunkmate Sgt. Nam continue to trade letters and mix tapes with their Northern friends, Seargents Oh and Jeong, and make a habit of secretly going over to their bunker on the North side to spend time with one another. It's really quite a beautiful story of friendship in the guise of a political thriller, a message of putting aside politics, taboos and boundaries and coming together as human beings. Unfortunatley, it seems, in a world driven by fear, such friendships can never last long before exploding into violence. With this kind of message,
JSA
feels like it doesn't pack quite as much of an emotional wallop as it could, but I applauded director Park's restriction and maturity for staying away from Speilbergian heartstring-tug tactics a la
Tae Guk Gi
. It's a grown-up film that doesn't pander to the audience, or offer fortune cookiefied easy answers to human conflict - a true eye-opener to what, in a better world, could be, but sadly, in our day and age, can't.