RIP Richard Pryor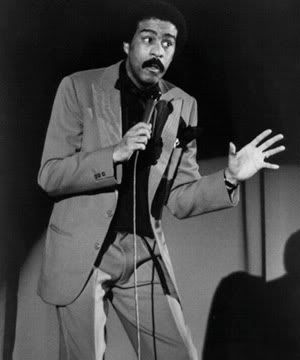 Richard Pryor passed away on saturday...a great comedian who made people laugh hard and think hard about racism while Dave Chappelle and Chris Rock were still in diapers. Anyone unfamiliar with him and wanting some insight into his legacy should definatley check out
Wattstax
, a documentary of the 1973 benefit concert held in memorium of the Watts riots in Los Angeles the year earlier. The musical performances from Albert King, the Staple Singers, Issac Hayes, and others are intercut with street interviews with African Americans regarding the socially traumatic events. Pryor, who gives an introduction to the picture and gives several brilliant stand-up bits throughout, calls it "a soulful expression of the black experience."
In other news, my sis persuaded the family to watch
Lemony Snicket's A Series of Unfortunate Events
last night, a fantasy film about a trio of orphans battling with the nefarious Count Olaf (think of an evil version of Doc out of
Back to the Future
) who is out to steal their inheritance. Cute little kid's film; although it made me laugh a bunch of times, it's something of a throwaway experience. But it's a good watch for kids who are a bit young for
Lord of the Rings
and
Harry Potter
but starting to out-grow all that Disney singing lobster crap, and its Tim Burtonesque decor should delight the Hot Topic goth creeps.
Discovered a nice surprise on that popup window that AOL Messenger gives you - yet another imitator of Waxy.org's
Shining
trailer. We've had
West Side Story, Titanic,
and
Big
recut as horror movies, but I think this new one,
A Christmas Gory
, is the best of 'em by far. Enjoy.