Bubba's gotta girlfriend!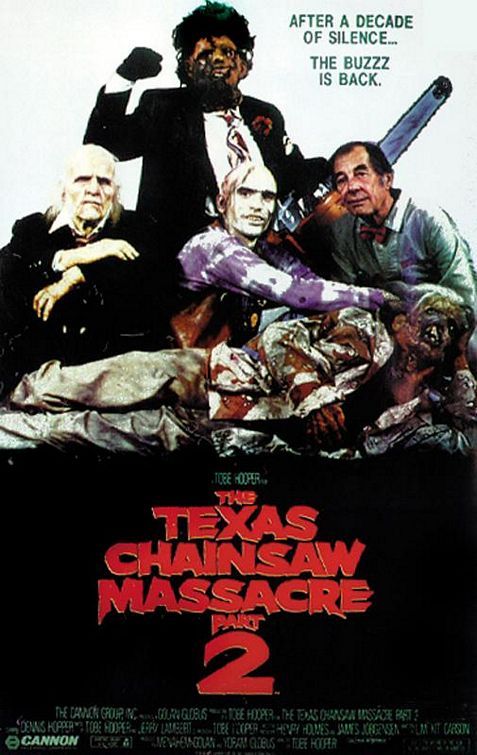 Hi folks. I realize I haven't written here in a while, and I apologize. I have no legitimate excuse for why not, or why I suddenly feel compelled to write in it now after seeing one of the worst films I've seen in a good long while. But I do. I can do anything I want to; I'm the chief of police.
The description of
The Texas Chainsaw Massacre 2
sounds like a recipe for an unarguably perfect horror sequel. The cannibalistic family are still up to their usual hijinks, and Dennis Hopper stars as an ex-Federal Marshal who has sworn revenge for the deaths of his brother's kids in the first film. There's a bigger movie budget this time, allowing for the family to relocate from their farmhouse to an labyrinthian underground lair beneath a cheesy tourist attraction which looks like something out of a Mario Bava film. A screenplay by L.M. Kit Carson (
Paris, Texas
) and makeup effects by Tom Savini. The first death in the film is a 90-mile-an-hour car chase/chainsaw-induced head wound set to Oingo Boingo's song "No One Lives Forever"... now look me in the eye, and tell me that that doesn't sound better than
Citizen Kane
?
As fate would have it, though, this film is actually completely terrible. It's about as far removed from its predecessor as
Killer Klowns from Outer Space
is from
Psycho
. I don't know how, or why, but some idiot somewhere decided to play this film for yucks. Presumably, their reasoning was that it would be too hard to try and outdo the original in terms of gruelling ferocity, so they opted instead to mix the gore with slapstick. It might have looked good on paper, but the filmmakers amped the goofiness up to eleven and it really all falls to pieces.
Replacing Edwin Neal in the role of The Hitchhiker is Bill Moseley, who is 1,000,000 times more irritating here than he is in the overrated
The Devil's Rejects
. Prancing about, picking his metal-domed head with a rusty coathanger (don't ask) and giggling manically like an evil Jimmy Fallon, he embodies about everything that is wrong with this movie. Well, just about everything, because then there's also Leatherface. Gone is the unstoppable, ruthless killing machine we all know and love, and in his place, we have a puppy-eyed, Quasimodoesque lunkhead with a strange preference towards dry-humping young women with the aid of his chainsaw instead of chopping them to bits without hesitation. I can only assume Hooper was going for some kind of
Blue Velvet
parody here... which brings us to Mr. Hopper. Even when he's tearing around the family's lair, slicing everyone and everything up with his chainsaw and shouting "I am the Lord of the Harvest!!!" at the top of his lungs, he still looks bored and confused. "One for them" indeed.
Amazingly, this film actually does have a substantial fanbase. Many of them insist that anyone who doesn't like this film could only be an unpleasable complaint-artist who wouldn't be satisfied with anything that wasn't exactly like the original. And that's just not true. I mean, I wouldn't have minded a funny
Texas Chainsaw Massacre
sequel if it had actually been, well, funny. But...it just wasn't.