The Popcorn Bucket Vol. 3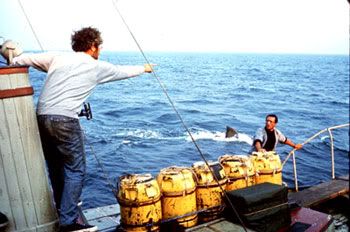 - The trend of internet parody trailers continues, this time making Speilberg's timeless great white shark classic look like a heartwarming family-animal movie in the spirit of
Free Willy
. Very funny stuff - might be my favorite parody trailer that I've seen so far.
Must Love Jaws
- According to
Images' website
, there are a whole mess of great films coming up from my favorite little local theater. They're going to be running a film series of contemporary Chinese films on Monday nights in April, including and
Farewell My Concubine, The Heat of the Sun, Happy Together
and
Eat Drink Man Woman
. They'll also be showing
The Rocky Horror Picture Show
at midnight on April 14th, and
Dreamer: A True Story
and
Seabiscuit
on April 1st and April 9th, if heartwarming horse movies are your thing. For me personally, they're not. But I'm pumped as hell about the Chinese films.
- Kojiro Abe has been featured
on yet another episode
of Patrick Macias'
Hot Tears of Shame podcast.
This time he teams up with filmmaker, media artist and assistant professor at Cogswell Polytechnical College David Cox to discuss
Godzilla: Final Wars
, the most recent entry in the big green monster series.
- Bunch of new trailers on Apple's website, and personally I think the most intriguing is for the comedy
Little Miss Sunshine
, about a family who drive across the country to try and get their seven-year-old daughter into the finals of a little girls' beauty pageant. It's an interesting concept to comprise the trailer mostly of clips of what appears to be a dinner scene at the beginning of the movie, and next to nothing from the bulk of the film (which I presume is the road trip and the actual pageant) is shown. It's definatley a nice change from comedies which tend to condense the whole film into a three minute collection of the funniest punchlines, not to mention the fact that it's Steve Carrell, Greg Kinnear, and Alan Arkin in an arthouse comedy. I think it'll be great.