The Popcorn Bucket, Vol. 4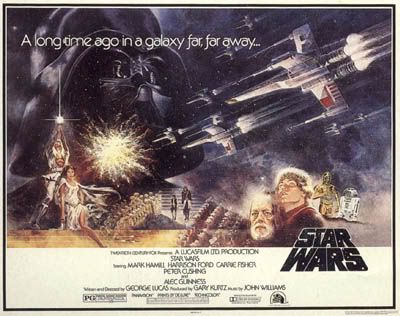 - This is old news to most, now, but I'll regurgitate it here anyway: in September, the original theatrical editions of the
Star Wars
trilogy will be available on DVD, in a six-disc pack which also includes the 2005 bastardized versions. This allows for a revolutionary practice for movie fans: the ability to customize their
Star Wars
trilogy experience. For example, you could watch the first half of the '77
Star Wars
– Han shoots first, no Jabba, and no CG dinosaurs – then take a peepee break and switch to the Special Edition to see that rad Death Star attack. Then, put in the Special Edition of
Empire
, because, eh, the Wampa and the big windows on Cloud City are pretty harmless. Then do the original cut of
Jedi
, because everything that they changed about that movie, from the Sarlacc to the singing aliens to Hayden Christiansen's leering mug in the place of Sebastian Shaw, was totally wrong. A customizable Star Wars experience. I'm not saying that I personally would do anything quite that dorky, I'm just saying...if you wanted to...you could.
- Checked out Terry Zwigoff's new film
Art School Confidential
the other day at the movies. Starts off hilarious and brilliant (Ethan Suplee's fat, loud, angry film student character got more guffaws out of me than any character in recent memory) in the vein of Ghost World but begins to lose steam when the second half goes in a weird and befuddling direction. Still worth seeing, though.
- I forgot to mention this in my previous post, but last night there was an film independent film crew shooting outside of the Film Forum just as we were going out. Didn't catch the title of the movie they were making, but it stars Parker Posey, and from what Jeff told me there was apparently some controversy over the fact that they changed the previous day's marquee for
In A Lonely Place
to
Black Sunday
and
The Glass Web
, and had to change it back again. So look for that one sometime at a theater near you.