Carrozza on Fukasaku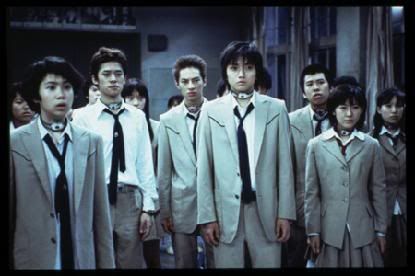 My good friend, fellow filmmaker and Asian cinema expert
Jules Carrozza
has created a loving and compresensive documentary tribute to his favorite filmmaker, Kinji Fukasaku. Fukasaku is most familiar to us westerners for the Japanese language segments of
Tora! Tora! Tora!
and for his 2000 youth-gone-wild masterpiece
Battle Royale
. But the man produced some 60-odd films from seemingly every genre during a 40-year career, including yakuza gang films (the
Battles Without Honor and Humanitiy
series), science fiction (
The Green Slime
), samurai movies (
The Yagyu Clan Conspiracy
), disaster movies (
Virus
) and much more. Jules' documentary, in which he chronologically covers his 14 favorite of Fukasaku's movies, is in eight parts on YouTube.
Part 1 -

Black Lizard

and

If You Were Young: Rage
Part 2 -

Under the Flag of the Rising Sun

and

Battles Without Honor and Humanity
Part 3 -

Graveyard of Honor

and

Cops vs. Thugs
Part 4 -

Yakuza Graveyard

and

The Yagyu Clan Conspiracy
Part 5 -

Message from Space

and

Virus
Part 6 -

Samurai Reincarnation

and

The Legend of the Eight Samurai
Part 7 -

Crest of Betrayal

and

Battle Royale
Part 8 -

Battle Royale

(continued)