"To play it safe is not to play" - Robert Altman 1925-2006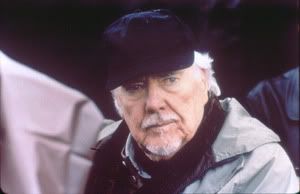 This is a truly sad day for cinema, which has lost one of its heroes. Robert Altman was one of the best and most iconoclastic American directors of the 1970's, as well as one of the greatest filmmakers in the world. Though he will probably be remembered for
Nashville
, considered by most to be his masterpiece, and for
MASH
, his first commercially successful film, my personal favorite will always be
Short Cuts.
From celebrated classics like
McCabe and Mrs. Miller, The Long Goodbye
, and
The Player
, to underrated, unusual works of genius like
Popeye
, and recent efforts such as
Gosford Park
and
A Prairie Home Companion
, Altman never directed a film he himself didn't choose or develop, resulting in one of the most distinguished directorial careers in cinema's history. His ways of shaping a film, telling the stories of 20-odd different characters with interweaving storylines and overlapping dialogue, has been often imitated, but never equaled. Godspeed, Mr. Altman... the cinema is a darker place now without you.
If you've got time, be sure to read of Dennis Cozzalio's moving tribute to Mr. Altman at
Sergio Leone and the Infield Fly Rule
, as well as Rick Lyman's
New York Times obituary
, which has links to reviews and trailers of many of his films.