Bakshi in NYC!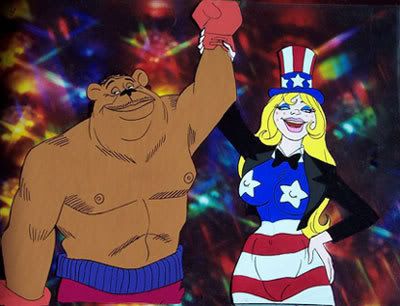 Animation legend Ralph Bakshi will be in New York next week, on Thursday, April 18th, to sign copies of the lovely new coffee table book
Unfiltered: The Complete Ralph Bakshi
. at Soho's
Animazing Gallery
. If you want to go you'll need to call them up and RSVP.
As a filmmaker, Bakshi is about as polorizingly "love him or hate him" as it gets.... I've only just recently started getting into his stuff in the past few months, but I can say I am firmly in the "love" camp. His work is a rarity in the typically very collaborative field of animation - personal, raw and truthful. His early "street" films -
Coonskin, Hey Good Lookin'
, and my personal favorite of his works,
Heavy Traffic
, have more in common with pulsatingly individualistic slices of cinematic life like Scorsese's
Mean Streets
than anything Disney ever put out, and even when he did make cartoons for children (his brilliant fantasy epic
Wizards
and the hilarious Saturday morning cartoon
Mighty Mouse: The New Adventures,
a collaboration with a pre-
Ren and Stimpy
John Kricfalusi, they still contained cracking wit and did not look down upon their young audience.
I will certainly be at the event next week, and what's more, it's a great excuse to post some YouTube clips!


The

Heavy Traffic

trailer.



The WWII sequence from

American Pop

, which marries footage of soldiers in battle with clips of swing dancers, a brilliantly set to Benny Goodman's "Sing Sing Sing."



The trailer for

Fire and Ice

, Bakshi's collaboration with cult artist Frank Frazetta - an unabashedly manly tale of warring barbarian clans.



"Mighty's Benefit Plan," one of the funniest episodes of

Mighty Mouse: Thew New Adventures

, lampooing "Alvin and the Chipmunks." The Dave Seville counterpart (here called Sandy Bottomfeeder) is an overbearing, exploiting, psychologically unsound megalomaniac, whose adopted pop-star sons Elwee and the Tree Weasles live in total fear of him - not unlike the parents of many child stars in the 80's. I recently bought this entire short-lived series from an online bootleg seller (I was too young to remember it ever being on TV in England) and there were many jokes like this that would've gone right over the kiddies' heads. Unfortunately, the show didn't last long after an Evangelical TV watchdog accused the titular rodent of sniffing cocaine (he actually smells a crushed-up flower given to him by his crush).