Happy New Year from Homefront Film School
Another year over, a new one just begun.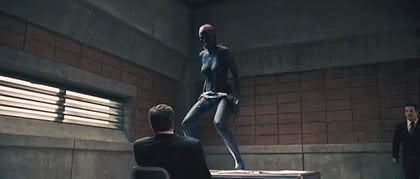 I'm happy to report that, having finished both the showreel of feature film and commercial clips, and the mini-documentary on The Thing's armpits for Kleiser Walczak (which will hopefully be viewable from their website very soon), I'm about to begin the year of 2006 with my very first job on the construction of a major motion picture. I'm going to be a digital file clerk of sorts keeping track of the status of the Mystique shots in
X-Men 3
. As they've done on the two previous films, Kleiser Walczak will be responsible for Ms. Romjin-Stamos' shape-shifting, as well as a digital yellow eye replacement for the character.
I'm pretty excited to be working on this, as I consider the
X-Men
films to be head and shoulders above nearly all the films of the recent superhero movie explosion. I adored the Fox Kids cartoon when I was a sapling, and really appreciated Bryan Singer's visions of the films; they placed the heroes in a real-world setting and really took the social/political themes seriously, but didn't skimp out on the action and fun. Singer was replaced for this film by Brett Ratner, of
Rush Hour 1 & 2
and
Money Talks
fame, which probably means we're going to see more action and slightly less intelligence, but to see these characters on the big screen again (not to mention a crop of new mutants including Kelsey Grammar as Beast, one of my very favorite characters) it'll surely be worth the price of a theater ticket.
In addition to working on big-budget Hollywood blockbusters, I'm continuing my Homefront Film Education with selections of classics on DVD. I recieved a whole crapload of discs from the benevolent fat red man, and every time I watch one of them it's like Mario landing on one of the magic mushrooms. Here's what Santa brought.
Aguirre, The Wrath of God
The Bridge on the River Kwai
Downfall
Full Metal Jacket
Matango
Onibaba
Paths of Glory
Psycho
Rebel Without a Cause
The Wild Bunch


I had seen a few of these before, but most, I hadn't. Let me tell you,
Onibaba
and are both extremely highly reccomended, a pair of the finest Japanese horror films you'll ever see.
Onibaba
, directed by Kaneto Shindô, is a chillingly moody and atmospheric story set in feudal Japan. Filmed in gorgeous black and white (beautifully accentuated by Criterion's restoration job), it's a brilliant, chilling, and massively erotic folk tale-type story set in an ocean of ominous, waving grass.
Matango
, on the other hand is definatley more of a "b-movie", directed by Ishiro Honda with the help of many of the skilled men who put together the original
Godzilla
movie. It deals with a group of castaways who get stranded on a mysterious island, and as their situation gradually develops into a
Lord of the Flies
-type situation as they search for food, try to stay alive, and do their very best to resist the temptation of eating the cackling, whispering supernatural mushrooms that grow in the forest. It's a great movie that mixes rubber-suited monsters seamlessly with moody atmosphere and great drama. Kaiju aficionadoes definatley owe it to themselves to see this, but will appeal to those who aren't fans of Toho's monster movies because of its character-driven story. Great film.