Hondo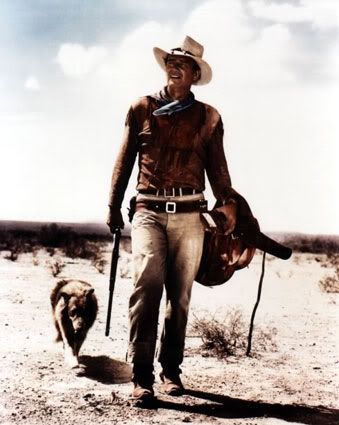 Spent a pleasant evening last night parked in front of the woodstove with this 1953 John Wayne pic. The Duke plays a half-Indian U.S. Cavalry n scout who wanders out of the desert to the ranch of Angie Lowe (Geraldine Page) and her young son. Hondo tells her that the treaty between the whites and the Apaches has been broken, and that she and her boy ought to escape to safety, but she insists that she'll be safe, as the Indians have always left them alone. When Hondo rides back into town, he unwittingly has a run-in with Angie's reprobate husband, who he kills in self-defense. After he rides back into the desert and tangles with the Indians, he agrees to pose as Angie's husband so that the chief, Vittorio, won't kill them, but he knows soon enough that he will eventually have to tell the truth to them both.
This is kind of an interesting movie which shows a bit of growing maturity in Hollywood westerns' depiction of American Indians. Whereas the Indians of the silent era up to the early fifties were essentially expendable cannon fodder, they are shown in a bit more of a sympathetic light here. For one thing, they're played by real Native American actors, as opposed to white guys in dark makeup, and are sympathetic towards the family, as Hondo, who explains that he lived with the Apaches for five years and had a wife he was deeply in love with, is sympathetic towards them. On the other hand, though, the Indians still talk in a "Me Tarzan, you Jane" fashion, and, the "end" of their way of life in the interest of making way for white settlers is shown as something of a neccesary evil.
Although, if you're able to enjoy old movies without an obsessive sense of political correctness, this movie is quite a lot of fun because of Wayne's cool persona. His frequent co-star Ward Bond is in this, too, and he kicks ass, and the action scenes, are very nicely choreographed. Apparently this film was shot in 3D, I'd love to have scene the climatic final horseback-shootout with the bullets and knocked-over horses jumping right out at the screen at me. All in all, this is a fun film, and fans of The Duke will appreciate it.