Kojiro Abe A-Go-Go!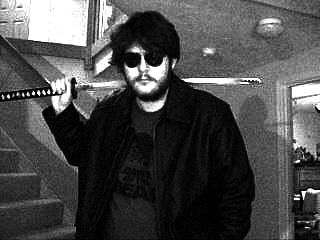 My esteemed compatriot, cult film guru, and aspiring filmmaker Jules "Kojiro Abe" Carrozza was recently interviewed on two episodes of Japanophile bloggist Patrick Macias's podcast
Hot Tears of Shame
. Abe spills the beans on his upcoming film projects, including the animated WWII drama
Gen-Y
, a shelved sequel to Ishiro Honda's desert island horror flick
Matango
, and a twisted and demented re-telling of
Little Red Riding Hood
, which yours truly will be starring in as an in-bred hillbilly. He also shares with us his thoughts regarding the state of Otaku culture in the U.S. today, his annual video festival of the most disturbing films ever made, and his crush on Shaw Brothers actress Shih Szu. Check it out.
PART ONE
PART TWO
Additional Links:
KOJIROABE.COM
KOJIRO ABE AT THE MOVIES