The Popcorn Bucket Vol. 2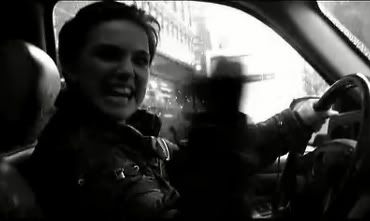 - For those of you who can't hold in your anticipation for
V For Vendetta
, here's
a little something to tide you over.
What can I say? I love this woman.
- Caught both
The Hills Have Eyes
remake and the recent French WWII pic Bon Voyage in the theater recently. Both were more or less lightweight movies that don't necessarily warrant a lengthy review.
Bon Voyage
was the fifth and final film in Images' Beoyond the Femme Fatale series. Set in Paris at the beginning of the war, it deals with a bratty, manipulative film actress, her escaped convict lover, and a professor and his young girl assistant who are trying to smuggle their solution for heavy water into England. There's never really the sense of danger that one feels there should be, but it is still a fun flick, not the least of reasons is because of the beautiful Virginie Ledoyen.
The Hills Have Eyes
, on the other hand, just plain kicked ass. It looked like Tobe Hooper had gatecrashed Sergio Leone's desert and made a kickass monster movie. Great popcorn flick, 'specially if you like your popcorn bloody.
- Kleiser-Walczak's Sun Maid raisins commercial is now completed, and the
finished product
can now be viewed on the company's website. The fine digital craftsfolk who work here have knocked yet another one out of the park - the animation is beautiful, and the newly CGI'd Sun Maiden joins Faye Valentine and Daphne from
Scooby-Doo
as an animated woman I'd love to go out on a date with.