Aussie cowboys, Maylasian gangsters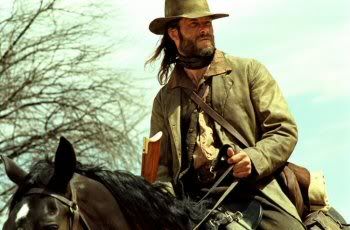 I strongly encourage everyone who might happen to read this to go out and see the wonderously sun-drenched, blood-soaked, fly-covered Australian western
The Propositon
,
otherwise known as the best film I've seen so far this year. It's another strange case of critics and audiences being disappointingly unenthusiastic about a movie that, in a perfect world, would be playing in every multiplex, gobbled up by the young and old alike. Spread the love by going out to see it. If you've already seen it, and its images and power are still on your mind, have a read of
Andrew's terrifc review
of the movie, and check out
this page
for some wallpaper-sized press kit stills.
Another cool little film I saw this week, which, after its second and final screening at the New York Asian Film Festival, will probably never be playing again at a theater near you, was the Maylasian action film
Gangster
. Hyped up as a kind of
Go
meets
The Fast and the Furious
(only better), it tells the story of a hotshot street racer, a ruthless drug dealer, and an honest family man who gets mixed up with the mob. Thing is, all three characters are played by the same actor - Rosyam Nor, Maylasia's most popular actor. With different makeup, wigs and facial hair, as well as completely different mannerisms, his performance is quite remarkable. The rest of the movie is a pretty much just a brightly-colored, race car shoot-'em-up, but it certainly kept me amused and entertained, which is more than can be said for a bunch of recent American actioniers.
Oh... expect a review of
The Iron Giant
soon, as well. I finally got a chance to see that in the theater, courtesy of
The Onion
's monthly film series at Anthology. What a beautiful film.