Back in the saddle again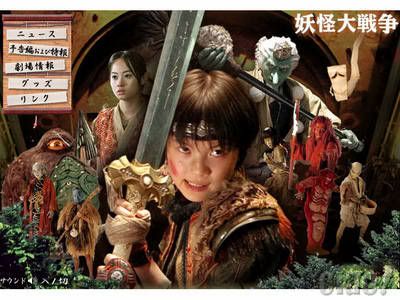 After a sore throat and a nasty cough following Putney graduation, as of yesterday I'm back down in the City again looking for a job and a place to call home. Just in time for the New York Asian Film Festival, which looks like a joyously wacky alternative to New York's more academically-minded film revival scene, not to mention the usual summer blockbuster happenings. You can check their schedule out
here
- they've got a plethora of new Chinese, Korean, Japanese and Indian films by directors of contemporary cult hits, and lots of stuff your Asian film-obessed buddies will have told you about, like
A Bittersweet Life, Linda Linda Linda,
and Takashi Miike's bizarre kiddie fantasy film
The Great Yokai War
(pictured above).
In addition to that, Film Forum is running a
Billy Wilder Retrospective
, which begins on July 30th with his masterpiece,
Double Indemnity
. Plus, the
Anthology Film Archives
is showing Brad Bird's
The Iron Giant
on June 22nd. No one should miss the chance to see this movie in the theater - it's easily cinema's last great 2-D animated film, not to mention one of the saddest movies ever made. Bring tissues.
COOL LINK OF THE MOMENT
: a recent post from the MP3 blog "Post-Punk Junk" contains not one, but
two full mix CDs
of obscure film soundtrack tracks. If you've ever wanted a copy of the songs from
Ishtar
or the extended disco theme from
Friday the 13th Part III
, your wishes have just come true.