Dear Wheeler. You provide the prose poems, I'll provide the war.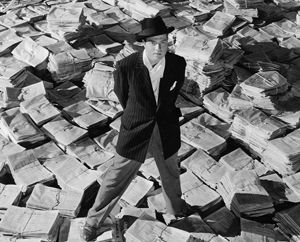 Had a great little film-related adventure yesterday. I'd seen flyers posted up around school for a DVD sale at Harlem's Adam Clayton Powell Building to benefit the
Museum of African-American Cinema
. I went over to check it out and had a nice chat with some of the staff. They've recieved permission from the state and a handful of grants, but are still working towards the funding they need to build and set up their museum. When it's finished it'll contain a wealth of artifacts detailing the history of African-American films and will also hold screenings of movies both classic and current. I told them I'd be more than happy to help out at any future fundraising events that they do, and walked off with a copy of
Ghost Dog: Way of the Samurai
and
The Warriors
to help the cause.
I also discovered a wonderful theater today I'd never been to before; the
Clearview Ziegfeld
on West 54th Street. It's a gorgeous, old-fashioned style movie palace with an enormous screen, 1,000+ comfy seats (including a balcony in the back), and it's all upholstered in beautiful red and gold just like the movie theaters you've seen in photographs but never knew still existed. According to
Cinema Treasures
, it was built in the 60's after the original Ziegfeld was demolished.
The Ziegfeld is currently showing a series entitled
Hollywood Classics: Five Weeks of Solid Movie-Going
, a series of popular favorites assorted by theme. This week was "All-Time Classics Week", which boasts showings of
Citizen Kane, The Good, the Bad and the Ugly
and
Casablanca
all week long. I saw the former two yesterday and the experience was just magical, especially
Kane
. The grandeur of this film is really too grand and sweeping for a TV set to do justice to. The print of
The Good, the Bad
was the extended version, which I have to say I don't care for as much...I think the restored scenes slow down the story somewhat, and it's really weird to hear somebody else's voice coming out of Lee Van Cleef's mouth, but that's only a small complaint about an otherwise awesome experience of seeing one of the coolest movies of all time on the big screen. I'm eagerly looking forward to the Ziegfeld's "Speilberg Week" (
Jaws, Back to the Future
and
E.T.
) and "Superhero Week" (
Batman, Spider-Man
and
Superman: The Movie
), as well as their sister cinema the Clearview Chelsea's upcoming showings of various Rock Hudson/Doris Day and Bette Davis movies,
Airport 1975
and
Carrie
.
On top of that, I've got even more good news to share with everybody who lives nearby - a full-page ad in Tuesday's New York Times proclaimed that the Lincoln Center's Walter Reade Theater would be hosting a series of talks by filmmakers aimed at film students entitled
The Next Generation of Film
. Next Sunday, fly-on-the-wall documentarian Frederick Wiseman (
Titticut Follies, High School
) will be present, on October 14th, Monte Hellman (
Two-Lane Blacktop, Cockfighter
) is going to be there, and on October 22nd, they're hosting Paul Schrader. And, AND, a little footnote at the bottom of the ad reads "Coming in November: Martin Scorsese". If you're as excited for this event as I am, you can buy tickets online at the
Film Society's website
.