You are who you choose to be.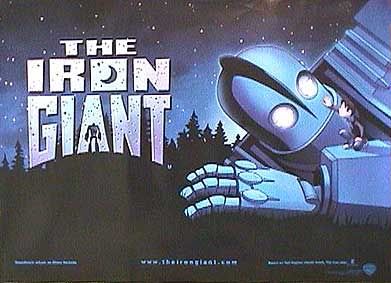 The year is 1957, the place - Rockwell, Maine, where strange things are occurring. Cars, telegraph poles, and pieces of machinery are being found with what appear to be giant bites out of them, as if partly devoured by some sort of enormous beast. With his imagination reeling from hearing snippets of stories about the unknown mechanical visitor, lonely 10-year-old Hogarth Hughes sets out into the woods one night to investigate. What he finds is an 100-foot tall robot with a child-like brain, who at first he is terrified of, but after saving the giant from being electrocuted when it tries to chew on part of the town's powerplant, the two form a friendship. Soon, however, a government agent named Kent Mansley arrives in town to investigate the occurrances, intent on destroying the giant, and the town with him, if necessary. To be able to stop him is going to take courage, sacrifice, and will push the pair's friendship to the limit.
The Iron Giant is all about contradictions that work beautifully. It's about outcasts - a fatherless young boy and his relationship with a 100-foot-tall robot - a film that feels fresh, with seamlessly blended, top-of-the-line 2D and 3D animation, and yet the story arc is nearly as old as cinema itself. It's both a nostalgic and a critical look at the paranoid sci-fi of the fifties (
Invaders from Mars
and whatnot), where aliens served as a metaphor for the Communist threat and yet, it's core is infused with the soul of
E.T.
It is also, like Brad Bird's The Incredibles, a film that kids will enjoy, but adults will likely get just as much if not more out of - not only because of the refrences and in-jokes (such as an animated re-working of
The Brain from Planet Auros
that Hogarth watches on TV), but also because of the emotional impact which grabs ahold of your heart and pulls you in, regardless of age. The Anthology Film Arcives screening of this movie had a packed audience entirely made up of people older than me, without a single kid in the room! It's a testimony to the film's power that so many adults would part with their eight bucks to watch a cartoon... and hopefully a step toward animation being recognized more as the artform it is.
The Onion film series, which this screening was a part of, is dedicated to showing contemporary movies that never really "had a chance" when they were released, due to poor marketing, lukewarm critical reception, and all kinds of other things that cause great movies to flop but then go on to become classics.
The Iron Giant
, of course, fits the bill perfectly. Last month they showed
Fear and Loathing in Las Vegas
, and next month, they're doing
The Hudsucker Proxy
. Should be fun!