If they move, kill 'em!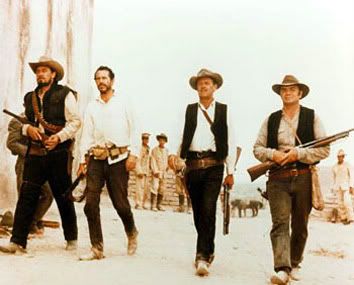 A few assorted jabberings...
Went to see
The Wild Bunch
at BAM Rose Cinemas last night, and all I can say is, fuckin' wow. What a great film. I think it has edged out
Once Upon a Time in the West
as my favorite western ever. The cast is absolutely terrific, it's got more testosterone than
The Great Escape, The Dirty Dozen
and
Raging Bull
all put together, and the whimsical chaos and violence of Peckinpah's style still puts most modern action movies to shame. Ya two-bit redneck peckerwood!
As far as upcoming movies go, there's also a lot to look forward to... Alfonso Cuaron's
Children of Men
, a not-to-distant future story where all women are infertile, Christopher Nolan's
The Prestige
, a turn-of-the century thriller about duelling magicians, and
TMNT
(!), there is also Martin Scorsese's feature film swan song
The Departed
, an Irish Mob/Police thriller which not only stars Jack Nicholson, Leonardo DiCaprio, Matt Damon, Mark Wahlberg and Ray Winstone, but also my close friend
Mr. Andrew Bemis
! I can't wait to see this at the movies with you and Jess, man. The rest of ya's can read some more about Andrew's movie extra adventures on his blog. As far as the trailer goes, it looks terrific. Apart from that rather iffy cover of Comfortably Numb, it looks like we're in for a great big helping of Martin Scorsese Movie Magic. I can't wait.
Another shoutout goes to my pal and fellow filmmaker Jules Carrozza, whose cultish, Shaw Brothers-ified adaptation of Little Red Riding Hood is reported to be coming along beautifully. He's put up a
blog
detailing the filmmaking process complete with a
teaser trailer
. I don't think anything else I've seen this week made me guffaw as hard as the Wolf's line delivery of "THAT'S A LIE!"
Oh, and this just in...
New Hampshirites rejoice at the title of upcoming Die Hard sequel.