Fuckin' rats.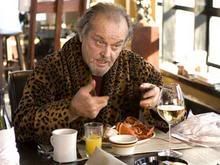 Been a while since I've written anything here, and a lot's been going on. First and foremost, if you have not yet been to the theater to see
The Departed
, I suggest you do so, right now. We're talking about Scorsese's best, balls-to-the-wallest movie in almost a decade, boasting terrifc perfomances from every one of its cast members, an ass-stompingly excellent script, and all the effortlessly brilliant direction and editing you'd expect from America's greatest living filmmaker. It's also certified proof that Mr. Jack Nicholson is the single coolest human being on the planet, but you knew that already.
Last week also saw the sad passing of blaxploitation queen Tamara Dobson. A 6'2 fashion model who became a cult film icon for the titular role in
Cleopatra Jones
(co-starring Antonio Fargas and Shelley Winters), she also starred in the sequel,
Cleopatra Jones and the Casino of Gold
, and the Linda Blair women-in-prison feature
Chained Heat
. The Guiness Book of World Records also lists her as the tallest leading woman ever to appear in a film. It's hard to think of a contemporary actress who could put her platform-heeled boot through a crooked honky cop's face, or refer to one of her fellow inmates as a "chalk-faced whore" with such grace and subtlety as Ms. Dobson. She will be fondly remembered.
The SpikeTV-premiered trailer for
Grind House
, Quentin Tarantino and Robert Rodriguez's love letter to dime-a-dozen 70's gorefests, is now on
YouTube
. All the clips appear to be from Rodriguez's zombie flick
Planet Terror
, and if the energy and sheer kickass-ness of the film is even close to that of the trailer, it'll likely be my favorite RR flick ever. I eagerly look forward to getting a first glimpse of Tarantino's slasher automobile opus
Death Proof
, starring Mr. Jack Burton himself, Kurt Russell!
Also, a nice bit of nostalgia for the
Star Wars
fans that read this blog - I was cruising
SingingFish
the this afternoon when I stumbled upon a page containing the complete
NPR Radio Adaptations
of the three original films on the website of a Midwestern stormtrooper costuming club. It's things like this that iTunes was made for.