"The Party" Production Diaries Vol. 1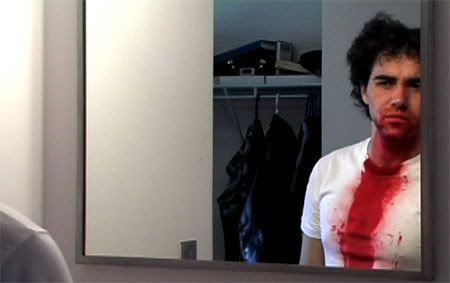 Mad Scientist Productions is back up and working again, on a short film entitled
The Party
. The story concerns a college-age young man named Greg, not that dissimilar to you or I. He wakes up one morning after a night of heavy partying to find he might have partied a little harder than he thought humanly possible. It's your typical horrible hangover story, but with a supernatural twist, and it will hopefully be part of an anthology horror project in the spirit of
Creepshow
and
Twilight Zone: The Movie,
with entries by
Jules Carrozza
and a handful of others.
This past Sunday, I shot most of the main footage with Aaron Lee Jones (pictured above), who plays the main character. Aaron's an acting major at the School for Film and Television. He's one of the finest actors I've ever worked with and really nailed the macabre, blackly comic spirit of the character that is crucial to the feel of this movie. The action takes place entirely inside a college dorm room and kitchen, so I used my room, to avoid any kind of BS with asking for permission. (A previous short film that I planned, involving a monster stalking a young man in a library, was aborted due to the CCNY librarians being difficult about elements of the story)
The project is an assignment for my intro-level video production class. As per the instructions of the class, the film cannot have synchronized dialogue, it must be no longer than three minutes, and it is to be completed and handed in on November 14th. I will wrap the shooting this weekend and proceed with the editing. I can't wait to put this baby together. It's going to be a real treat.