"Hostel" & "The Shining"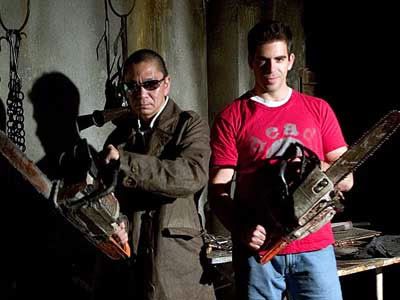 Despite what everyone would have you believe,

Hostel

is not an exploitive piece of "torture porn" - it's a good little movie with no self-doubt about what it is: a pulpy, unpretensious but scary and effective flick, made for horror fans, by horror fans, with no attempts to try and pander to the general public.

I won't lie to you - the torture scenes are pretty goddamn gnarly, and in a couple of places even downright disgusting, but in truth they only make up a very small portion of the film, and the picture has a lot more going for it than just blood and guts. For starters, characters are all pretty likeable; I felt actually concerned for them, which is more than can be said for 99% of horror movies post-1980. The scares don't come as much from single, indivual acts of torture and depravity, but from an overall feeling of dread of being a million miles from home, in a European village where everyone is in cahoots and is against you. It's the kind of fear that I'm sure everyone has experienced at least a little of when they've gone on vacation.

I saw this in a theater full of teenagers, and I for one really like horror movies with an audience because I get a kick out of the shared reaction. The girls screeched and ewwed in all the appropriate places, and when the villains got their blood-soaked comeuppance at the end, there were actually cheers. Of course, my horse!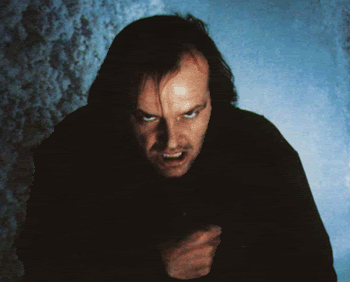 I was also fortune enough to go to a big-screen screening of Kubrick's immortal horror classic
The Shining
at Images Cinema, which was, in a word, absolutely fan-fucking-tastic. This is the fourth film that I've seen theatrically after I'd watched it before on video (along with
Men In Black
, the original
Godzilla
and
Raging Bull
), and has, for me, become the final word on the subject of big screen vs. home viewing. It's like the difference between seeing a photograph in a book of a stained glass window, and actually being there in a cathedral and seeing it for real, being in its presence...art in the flesh. There is something about the flickering of celluloid that is more emotionally provocative than video, and with a horror pic as scary as this one, I was plain terrified. The terror in this film builds and snowballs gradually into insanity and to its inevitable conclusion, with magnificent effect. It's quite possibly the greatest horror movie ever made. Incindentally, while Googling for an image to use in this post, I stumbled across a
brilliant review
by Danel Griffin's Film As Art website, with some great things to say about its themes and questions. I highly reccomend everyone read it.