The Producers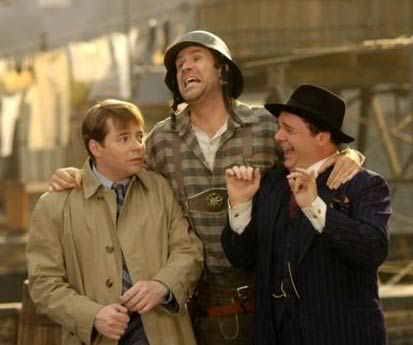 The film adaptation of Mel Brooks'
The Producers
broadway show seemed to come and go without a great deal of fanfare and very mixed reviews, which is a real shame. Critics seem to have lambasted it for it's stagey cinematography, its over-the-top performances, and lack of sublety, even though these are the same people who fell over themselves to praise overblown fluff like
Phantom of the Opera
and
Rent
. Personally, I have to wonder if they even saw the same movie I did, but in truth, it just stands as a testament as to how out of touch a lot of film critics really are. I loved it, and haven't laughed so hard in a movie theater for a good long while.
The Producers
over-the-top and stagey for a reason: it's a sendup of Hollywood musicals of the 30's and 40's. And it's a brilliant sendup at that. Everything onscreen is submerged in a glorious, all-singing, all-dancing Old Hollywood style. In fact, I'd go as far as to say that, had the Hay Production Code been more leniant toward risque humor and musical numbers with dancing girls dressed as Nazi stormtroopers, this could very well have been made in the old studio system. It is almost defiantly rendered in an anti-
Moulin Rouge
/
Chicago
quick-cut fashion, with no angst to be found throughout the whole film. For those of us who love to laugh, and appreciate how sophisticated lowbrow humor can be, it is a revelation with a laugh every second.
Max Bialystock (Nathan Lane) is a once-great Broadway reduced to the laughing stock of New York, having to make love to wealthy, horny old ladies in order to finance his shows. When a timid young accountant, Leo Bloom (Matthew Broderick) stops by to do his books and comments that, through a little bit of loopholing, one could make more money producing a flop than a hit, Bialystock hatches a scheme to produce the worst play ever written, collect all the backers' money when it's over, and take off to Rio. Their search leads them to "Springtime for Hitler", a theatrical valentine card to Der Feurher by wild-eyed Neo Nazi playwright Franz Liebkind (Will Ferrel). They hire the worst director in town, the screamingly gay, cross-dressing Roger DeBris (Gary Beach), and everything seems set to go wrong. Unfortunatley for them, however, something ends up going right.
I've never seen the Broadway show, so I can only compare the movie with Mel Brooks' 1968 film. The original is a comedy masterpiece which will probably never be out-done by anybody, but this version is a fine successor which stands on its own two legs. Several plot changes were made from the original film, as well. The out-of-it beatnik character "LSD" who plays Adolf Hitler was eliminated to get more bang for the musical buck - instead, the homosexual director DeBris portrays the dictator. Uma Thurman's role of Ulla, the producers' sexy but dim-witted Swedish secretary was expanded upon too - rather than being a one-joke minor character like in the original, she is given more to do and is a source of rivalry between Max and Leo. Thurman is terrific here - I've always liked her, but I'm so used to seeing her play sword-weilding assassins I'd forgotten how beautiful and charming she could be. She's a head taller than both Lane and Broderick, too, which makes their physical comedy that much more of a hoot to watch.
Broderick and Lane are just terrific. They both appear to be completely comfortable inhabiting the roles of Bialystock and Bloom, and are having the time of their lives playing them before the camera. Mostel and Wilder would be proud. Will Ferrell, who I usually find to be really, really annoying, actually does an alright job here, though he's hard to believe as anything besides Will Ferrell impersonating Kenneth Mars from the original. The musical numbers are brilliant. Honestly, I defy you not to tap your toes at Leo's number "I Want to Be A Producer" or laugh at Max during his "Along Came Bialy" routine, complete with a chorus line made up of old ladies with walkers. "Springtime for Hitler" is better than you ever could imagine - for Brooks fans, it's the next best thing to actually seeing Bialy and Bloom's horrendoes production on stage for real.
Interestingly,
The Producers
seems to have a lot in common with
Little Shop of Horrors
, another movie that was made into a stage musical and back into a film again with a less than impressive critical response. At the time, films like
Flashdance
were the norm for musicals and no-one seemed to know what to make of a campy spoof with a talking plant. Gradually, though, it built up a cult following over the years. That's what I think is going to happen to
The Producers
too. It was misunderstood in its own time, but future generations wiser than ourselves will know the truth.