Akira Ifukube 1914 - 2006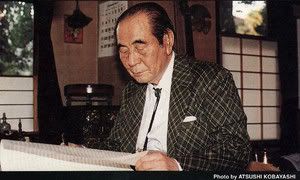 Akira Ifukube passed away recently at the age of 91. The composer of more than 200 movie scores including
Rodan
,
The Mysterians
, and the
Zatoich
i series, he will always be most remembered for his immortal soundtracks for the
Godzilla
series.
Seeing the original cut of the first
Godzilla
film last year at the Brattle Theater was one of the greatest filmgoing experiences of my whole life. It felt like I have taken a time machine back to 1954 Japan as I watched the opening credits - looming white characters on a black background with Ifukube's booming score, which was both terrifying and empowering. His theme perfectly captured the dread and horror of the films nuclear armageddon warning, while at the same time sounded like a fanfare for Japan and their first contribution what would become one of the most successful and beloved genre film series of all time. Along with director Ishiro Honda and modelmaker/effects man Eiji Tsubaraya, the brilliant team responsible for kaiju cinema's golden age, he will be fondly remembered.