Viva Laldjérie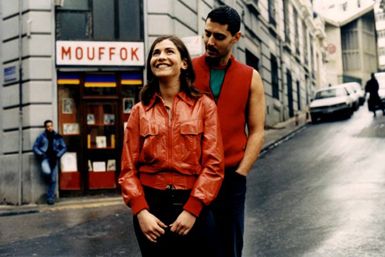 With twaddle like
Date Movie
and
The Pink Panther
stinking up the local multiplex, late-January/early-February is always a depressing time for cinema aficionados. It's usually this time of the year when I'm most thankful to have
Images
, the local arthouse cinema, just down the road, especially since they are running a series of worlds films on Monday nights throughout the month, for completely free.
Beyond the Femme Fatale - Leading Women in New French & Francophone Film
brings to Images a diverse collection of French language films dealing with women's personal, political and cultural identities. Last week they showed the terrifically fun murder mystery musical
8 Women
, which my friend Max described perfectly as "a French lesbian
Clue
." This week, the selection was quite a bit more serious - an Algierian picture from 2004,
Viva Laldjérie
.
Set in post-terrorism Algiers, the film concerns a young woman named Goucem who works at a photo shop and is the mistress of an older, married doctor who secretly supports her and her mother. She discovers that he has lied to her about taking a business trip and begins to suspect that he plans to leave her and cut her off. Goucem's Papicha is a former exotic dancer with a pipe dream of re-opening the Cobacobana nightclub. Living across the hall from them is a prostitute named Fifi, who becomes entangled in her own web of trouble when she sleeps with a government agent and misplaces his gun.
Viva Laldjérie
is far from a perfect film - admittedly, it is quite flawed. While the performances are terrific, especially from the simply gorgeous Lubna Azabal (
Paradise Now
) who portrays Goucem, director Nadir Moknèche keeps us at arm's length throughout, allowing us to see what his characters get up to but never really letting us inside their heads. The story is immensely downbeat in a way that often cloys for sympathy, and seems to ask more from the audience than it gives back in return. There a lot of loose ends which are never quite resolved, characters' motivations that aren't quite explained (namely the agents who come after Fifi and the young man who develops a crush on Goucem). It could be the director's intention, to provide us with a fly-on-the-wall slice of life perspective, but it's more likely that his storytelling methods just aren't quite as sharp yet as they will be someday.
Fortunatley, what
Laldjérie
lacks in terms of story and character exploration, it makes up 110% in heart. The film uses the city of Algiers the same way
Manhattan
uses New York City and
Man With a Plan
uses Vermont - it's as much (if not more of) a character as any of the actors. Moknèche, whose second feature this is, clearly loves the city, and relishes showing as much of it as possible. After years of violent political turmoil, the filmmakers were finally able, in 2004, to shoot in places where they would previously have been asked to leave or been in danger. As weird as it might seem to draw a comparison to
March of the Penguins
, the films share quite a few of the same traits. Neither are spectacular philosopically or in terms of story, but as richly detailed looks at places you'll probably never get a chance to visit, they are a blessing and a gift on the part of the filmmakers. At best,
Viva Laldjérie
is beautiful as a documentary of a newly liberated city which, like is characters, is unsure of its new self, but also steeped in tradition and brimming with majesty. For those of us who rarely have enough money to travel overseas, cinema is the only way we can visit places we wouldn't ordinarily be able to, and that is reason enough for me to thank Mr. Moknèche.