Match Point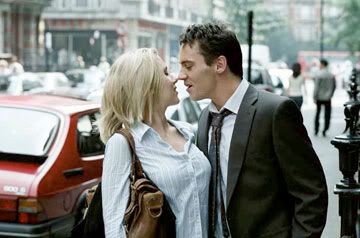 I caught Woody Allen's latest,
Match Point
at Images not long ago too, which was a less rewarding experience. At first glance, it appears to be a drastic departure from the rest of Allen's work, but truthfully, it's a lot of the same ground that he's covered before, and better. Its stance on the idea of luck is handled like a twelfth grade English paper of a movie. It opens with a shot of a tennis ball in motion and Rhys-Meyers' narration likening the fate of man to a ball that hits the side of the net and can land on either side. He continues to remind us, consistenly throughout the film, before he really whacks us over the head with it, at the end. It's an interesting enough idea to chew on, but if you've seen any other Woody Allen films you probably won't learn that much.
In addition to the five-part luck essay, the one's reaction to the movie also depends and enormous amound on how attractive you personally find Scarlett Johansson. I seem to be one of three red-blooded males that live on this planet who find her to be pretty much interchangable with the girl who works at Starbucks, and probably wouldn't even recognize her if I saw her walking down the street. As such, I found it hard to get 100% emotionally invested in a film about a man who jepoardizes so much of his personal and financial well-being just to fool around with such an average-looking gal who's not really that interesting of a person either. That's not to say
Match Point
doesn't have its merits. I can't describe them without ruining the plot, but let's just say that when Rhys-Meyers starts to get down to the end of his rope with the Johansson situation, that is when things really start to pick up and get interesting. There are plenty of really good potboiler moments that keep you guessing, as a good sex thriller should. It just doesn't have as much to say as it seems to think it does.