There's a lovely valley between those hills.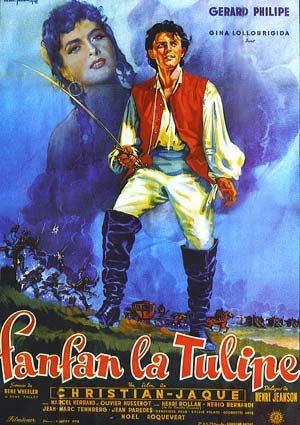 Film Forum
kicked off their "Summer of Swashbucklers" series (which will include
The Adventures of Robin Hood, The Seventh Voyage of Sinbad
, and
Gunga Din
, among others, all throughout the month of August) with
Fanfan La Tulipe
, a classic French swashbuckler flick from 1952, which is mostly unheard of in the United States, except for old folks who saw it way back in the day. It's a shame its so unheard of (as well as the fact that my friend Gillian and I were the youngest members of the audience, most of whom were over fifty) because
Fanfan
is absolutely terrific.
Fanfan (Gerard Phillipe) is a handsome young peasant who gets caught red-handed beneath a haystack with a local farmer's daughter. Her father demands he marry her and marches him off with the aid of a group of pitchfork-wielding yokels, but on the way back into town, he encounters an ample-bosomed gypsy fortune teller named Adeline (Gina Lollobrigida), who tells him that he is destined to become a soldier in the the army of King Louis the XV and win the hand of his daughter. Fanfan quickly dodges the bumpkins and enlists into the service, only to find out that Adeline is in fact the daughter of the recruiting seargent, who uses her feminine charms to lure gullible men into joining the service.
Once he's stationed outside the King's palace with his regiment, Fanfan becomes determined to fulfil the phony propecy and win the heart of the Princess. With the help of his compatriot, Franche-Montagne, he sneaks into the palace at night in hopes of meeting her, but the pair are mistaken for spies and sentanced to death. Adeline begs King Louis for a pardon, which he grants them, but unbeknownst to her, he is expecting a "little something" in return. After Adeline rejects his lewd advances, she runs off to hide in a convent, with the King's henchmen chasing after her and Fanfan galloping to her rescue.
Fanfan La Tulipe
is every bit as good, if not better, than all the great American swashbuckler movies, owing a lot of its bravado-brimming humor to
Gunga Din
, but with more sexual innuendo than you can shake a sword at. It's pretty jarring for someone used to seeing American Hays Code films from the same period to see; not only are there a lot of clever lines and double-entendres, there's also Lollobrigida's awe-inspiring and mind-boggling cleavage, which would've been enough to give any American film censor of the time peroid a cardiac arrest. Gerard Phillipe's performance as the lusty, suave but also buffoonish Fanfan is brilliant; reminiscent of Errol Flynn, Cary Grant and both Douglas Fairbanks's rolled into one (he also does one of the best/funniest "drunk" acts I've ever seen). Lollobrigida is both hilarious and gorgeous, and the rest of the cast is top-notch as well. If I had any complaints about the film it'd be that the swordfight choreography is a tiny bit sloppy, but in such a fun and enjoyable movie, it hardly matters.
Sadly,
Fanfan
isn't availale on Region 1 DVD at present (the 2003
remake,
starring Penelope Cruz, is, although I can't vouch for its quality as I haven't seen it) but it will be showing at the Film Forum until August 3rd. I'd encourage anyone in the New York area, whether you're bummed out by ADD'ntertainment, left cold by Captain Jack Sparrow, or just someone who loves movies, to go and check it out.