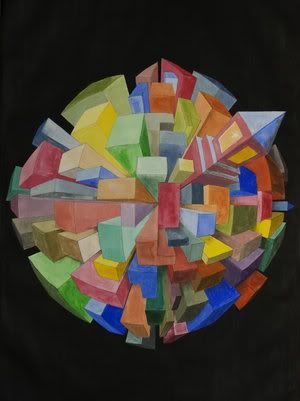 Just wanted to point you all to the
DeviantArt gallery
of my sister, Phyllis, who just recently got accepted to the Ontario College of Art and Design, and is a better draftsperson and painter than I could ever hope to be. Her extensive online portfolio contains her portraits, anatomical drawings, sketches, cartoon drawings, and her amazing fashion design work. Congratulations, Phyllie, and good luck!
And speaking of art, the Ralph Bakshi book signing last week at Soho's Animazing Gallery was a tremendous experience. It was great to see the man's paintings up close; they have much of the same energy and vibrancy that his animated films do. When I timidly approached the desk where he was signing copies of his book and told him that
Heavy Traffic
was my favorite of his works, his eyes lit up and he bellowed "Finally! Someone else who likes that fuckin' picture! I thought I was the only one!", which pretty much made my whole month.
Much of his family was present there, including his daughter and publicist, Victoria, who my friend Steven and I asked about Bakshi's upcoming film,
Last Days of Coney Island
, a story about dirty cops, prostitutes, and other colorful characters in Brooklyn's deteriorating amusement district. According to her, Ralph had been experimenting with new 2D animation software with the help of some close friends and family, but when he went to seek funding from various studios, they tried to get him to make changes and tone down the story, so he put it on the back burner for a while to return to his painting. At this point they have about five minutes of completed animation, and are looking for funding to make the film on his own terms. Let's hope we get to see this film in the eventual future.