Linda Linda Linda-ah-ah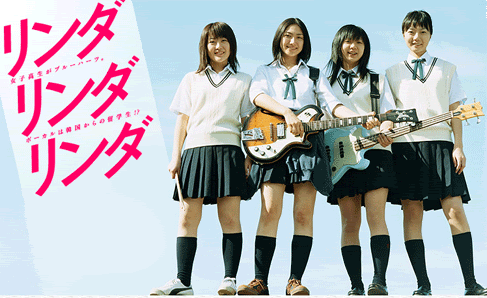 I'm happy to report that the Japanese film
Linda Linda Linda
, which screened tonight at NYAFF (and was the first film of the festival that I was able to go see at the
ImaginAsian
theater) is hands-down the best movie I've seen at the festival so far. An upbeat and joyous film about a high school girls' rock and roll band, it's practically garunteed to go straight to the heart of anyone who believes in music, and its power to save one's soul.
The plot is as straightforward as they come. Shiba High School is holding their annual Holly Festival complete with a musical talent show, and three friends - drummer Kyoko (Aki Madea,
Battle Royale
), keyboardist-turned-guitarist Kei (Yu Kasii,
Lorelei
) and bassist Nozomi (Shiori Sekine, of the real band Base Ball Bear) are struggling to get a band together. After their previous guitarist injurs her finger and has to bow out, they recuit shy Korean exchange student Song (Bae Doo-Na,
Sympathy for Mr. Vengeance
) as their vocalist, and decide to cover three songs by the Clash-esque 80's J-punk group The Blue Hearts. After weeks of staying up all night practicing, jamming until the wee hours (not to mention the fact that Song has to learn her lyrics phonetically), they are finally ready to play their music before their teachers and friends.
Admittedly, the description above probably makes this movie sound like every other movie about a band, or a sports team, or some kind of sentimental, rah-rah "Eye of the Tiger" pap. Trust me - nothing could be farther from the truth. What this movie is about is the people - the four schoolgirls that are its main characters are as quirky, and as button-cute, but also as three dimensional, as anyone you'd meet in life, and the movie's long, uninterrupted takes and improv-style acting give us a fly-on-the-wall feeling of being there. Opening with a MiniDV shot of one girl giving an on-camera interview about the Holly Festival, the movie starts out depicting its characters with shy restraint, gradually revealing more and more about their personalities, foibles, their joys and sorrows, until eventually, they literally start to feel like our friends. By the end, when the group performs their songs, we've honestly forgotten that they are characters in a film. We want to stand up and applaud.
I would honestly say that
Linda Linda Lind
a is one of the greatest rock and roll films I've ever seen. Being a recent film, it doesn't have the legendary status of
This Is Spinal Tap
or
A Hard Day's Night
, but honestly, it's up there. This is rock and roll stripped down to its very core. No pretension, no decedance, no sex, drugs, limos, and all of that bullshit - just the three-chord structure of a song and its power to save lives. It's a truly beautiful thing to see and hear.
Linda Linda Linda
is showing again at the ImaginAsian on July 1st (check out the schedule
here
), and I strongly encourage everyone who can to go and see it. And if you've already seen it, and can't get those infectuously catchy Blue Hearts tunes out of your head, I found a website where you can
download the song
from which the movie takes its namesake. Enjoy!